Gentle fabrics Yul. silhouette spring summer perfect!
Sweet knitted soft tailored in soft NEP materials w closet ( ダブルクローゼット ) zip up parka. Does not limit the inner in not switching sleeve Dolman sleeve silhouette. Is easy-to-use basic color is a rich gray, NEP is impressive. So-called cum and like atmosphere with Parker, dare, on volume of bottoms and long-length bottoms are this year, so maybe I ♪ is a light material, ideal for spring and summer Cape.
---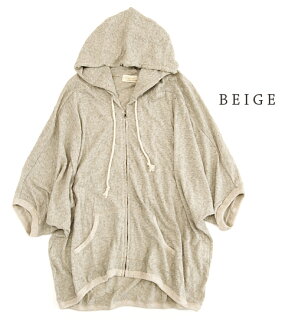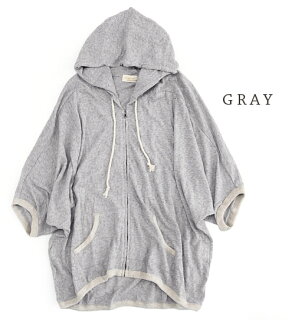 Notation size
"One size fits all."
Actual size
Chest approximately 212 cm (measured under the cuff) cm, length 60-72 cm ( before-after )
Sleeve length 58 cm sleeve 26 cm hem around 114 cm
Approx. 26 cm wide-cut neckline depth 9 cm hood height 40 cm
* This item is not represented is the size of the shoulders, sleeves, armholes tailoring on the switch of the shoulder is not design for the.
* The size is our open space is the exact size. May differ from the representation of the tags. Click here for details.
Material
Body: 100% cotton
Ribbing: 100% cotton
Washing instructions
Production country
Made in China
Lining
Without
Stretch fabric
May slightly sheer
Sheer fabric
May slightly sheer
Color
Beige (Light beige, beige, gray, off-white mix)
Gray (Lighter gray mixture of off-white or gray)

Related products
Of the fabric of the same rich moderate, NEP fifth sleeves ドルマンパーカー also.
* Different color, mixing ratio, etc.
Points to note
▼ so time remains wet for a long time, put in wet friction (friction in particularly wet) and sweat and rain, other clothing to decontamination if you like!
▼ may shrink slightly by washing or cleaning on the characteristics of the material in the oblique line (State looks twisted the entire product).
• This product is used very delicate material. Join the vigorous and strong force and open seams, eyes slippage has to nature (weaving yarn open slip eye). Trap when wearing a belt, buckle and detachable watches, rings, etc. by the frictional strength of ground such as 10 minutes please be careful.
▼ Properties prone to pilling ( hairball ), or in expressions such as NEP fabric pilling ( hairball ). Please wear where it is and when to remove with scissors.
▼ Please launder your washing time sharing and other things.
▼ Please check also comes with tag described before handling.