May differ from actual colors pictured above wearing a little. Please see the product pictures below color. Also, if you have any concern, please feel free to contact.
Height 161 cm yellow use: check the code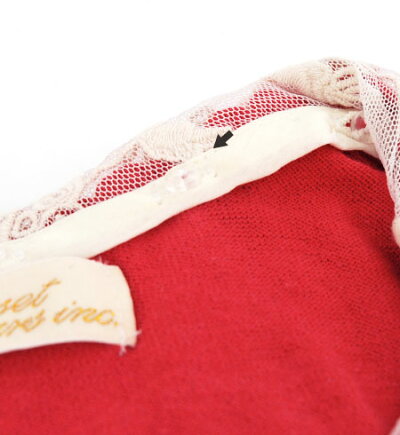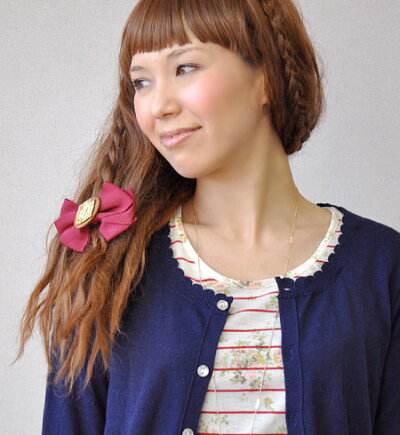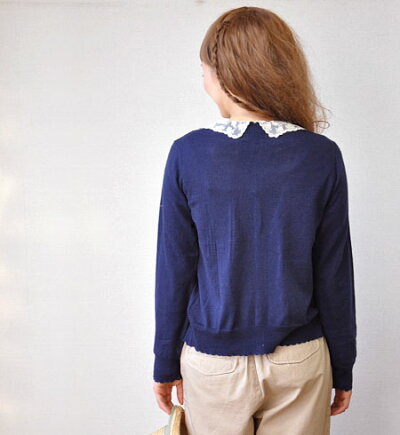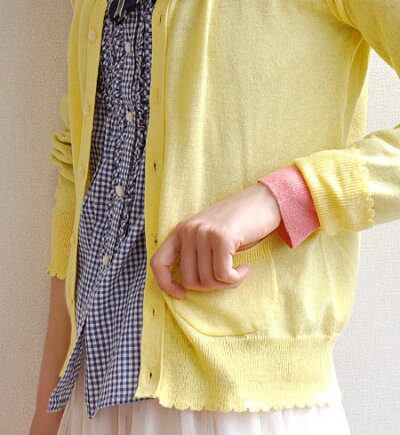 You can disconnect the neckline button is on the left and lace collar
After removing the collar on the right/cute!
The left bottom/hem and cuffs, neckline is woven scalloped style
Became a color scheme, and tailoring right bottom and cuffs two fold first and second will appear

Feminine right tulle lace on collar
• Height 161 cm Navy use: check the code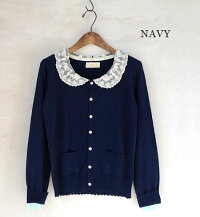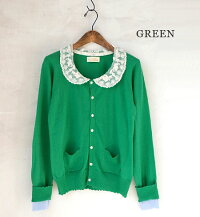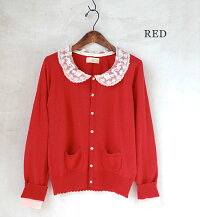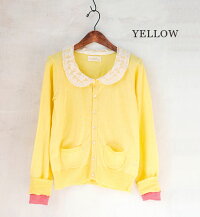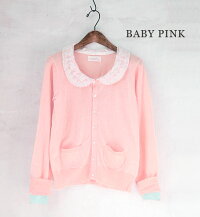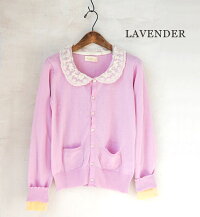 Notation size
"One size fits all."

Actual size
Bust 86 cm, shoulder width 33 cm overall length approx. 54 cm sleeve length approx. 54-57 cm
-Sleeve length 70.5-73.5cm armholes 36 cm sleeve 17 cm waist: 78 cm
17 Cm low-cut neckline depth 11 cm
When the design became a double cuff part for the wrapped cuff portion the sleeve length and sleeve length-size when extended notation.
* Knit to size slight individual difference arises. Notation size should be considered approximate.
* The size is our open space is the exact size. May differ from the representation of the tags. Click here for details.
Material
55% Cotton 45% acrylic
Washing instructions
Production country
Made in China
Lining
Without
Stretch fabric
Well stretch the ( does not stretch lace )
Sheer fabric
May slightly sheer
Color
Navy ( standard Navy / pale blue mixed with white )
Green ( bright green x lightcyan )
Red ( somewhat with orange red x baby pink pale pink )
Yellow ( bright yellow mixed with white x relaxed somewhat dark because of pink )
Baby pink ( Baby Pink pale pink x light cyan )
Lavender ( for colors such as pale pink old purple × orange of pale yellow )
* ( ) in a body x is the color of the inside of the sleeves became a double
* All racing parts are pale ivory is common

Related products
There is a sense of the same sizeボーダーニットカーデ
* Please check design of race types and details may vary.
Points to note
▼ your laundry with dry cleaning please.
• Removing the lace collar is possible.
• Knit nature, just "thread seams" and somewhat "frayed" "blend" and also to the shape and size individual differences-prone goods is. As you can understand thank you.
• If this product goes nature of fabric, washing and cleaning after the slight distortion of twist and shrink.
▼ so time remains wet for a long time, put in wet friction (friction in particularly wet) and sweat and rain, other clothing to decontamination if you like! Also, please wash and other things.
▼ Properties prone to pilling ( hairball ). Please wear where it is and when to remove with scissors.
• Lace hook materials-fibers on the prone, so without running into projection clock and accessory belts wear, detachable when, please note.
▼ Please check also comes with tag described before handling.