Vintage feeling faint print T re-appearance!
distressed T shirt casually dressed adult w closet ( ダブルクローゼット ) sleeve 7 minutes → sleeve sleeve into the change the re-appearance! Continue decorating large Unicorn and guitar are drawn to Central, around logo and stars are bright and ornate design ♪ intergrated casual items, like distressed t-shirts and vintage t-shirts-painted by scratched print impression. 着こなせます like girls a-line silhouette in not switching shoulder raglan sleeves, hem spread tactfully ◎. Hem the long Central ラウンドヘム; Gentle NEP ribbing with marbled well of color scheme use sleeve is very stylish!
---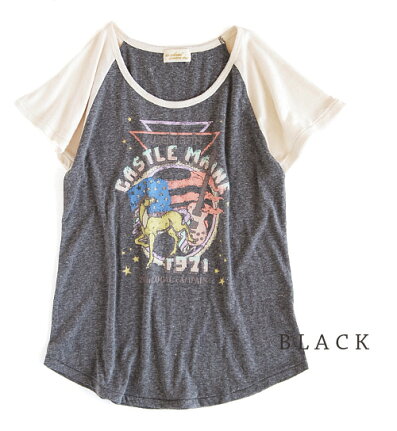 Notation size
"One size fits all."
Actual size
Bust 94 cm length 63-67 cm ( aside-measure from the Center and shoulder ) sleeve length approx. 32.5 cm
Cuff approximately 40 cm waist: 96 cm 21 cm low-cut neckline depth is approximately 13 cm
* This item is not represented is the size of the shoulders, sleeves, armholes tailoring on the switch of the shoulder is not raglan sleeves design for
* The size is our open space is the exact size. May differ from the representation of the tags. Click here for details.
Material
Polyester 50% cotton 12% rayon 38%
Washing instructions
Production country
Made in China
Lining
Without
Stretch fabric
The stretch a lot
Sheer fabric
May slightly sheer
Is grayed out because the see-through inner is required

Color
Black
( moderate charcoal gray × slightly yellowish white )
[Soft tones of coral pink, yellow and light blue Brown, etc.]
Off white
( slightly yellowish white / pale Mint Green )
[Soft tones of blue, gray and pink beige, etc.]
* ( ) in body x color sleeves and neckline edges [] color printed piece is in the
Crazy
( slightly yellowish white / pale yellow and pale pink x pale Mint green ) [soft tones of blue, gray and pink beige, etc.]
* ( ) in a body x neckline / right wing x left sleeve colour, [] color printed piece is in the
Points to note
▼ so time remains wet for a long time, put in wet friction (friction in particularly wet) and sweat and rain, other clothing to decontamination if you like!
▼ may cause fading discoloration is absorbed during washing, so alone, gently please hand wash.
• This product, on the characteristics of the material by washing and cleaning slightly shrinks the resulting diagonal line (State looks twisted the entire product).
• Easier to fall out and print is not permanent, or more, to be rubbed, also repeat the washing and cleaning by slightly thinner. Also please avoid ironing to the printed piece. May be individual differences prints tints, but enjoy as a characteristic of the product.
▼ Properties prone to pilling ( hairball ), or in expressions such as NEP fabric pilling ( hairball ). Please wear where it is and when to remove with scissors.
▼ Please check also comes with tag described before handling.