19249
Photos
* 16.9.15 point
You may wear pictures are slightly different color. Color, please refer to the product photos below. Also, if you have any concern, please feel free to contact.
Height 163 cm lilac M size using:Check out the outfit
Height 163 cm Mint * lemon M size using:Check out the outfit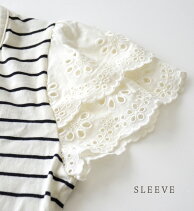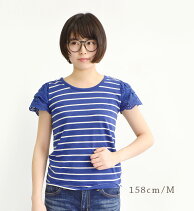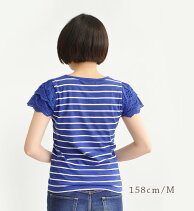 Popular sleeve lace Tee appeared in new colors!
Of the most popularcloset w (double closet)Andzootie (SETI)The wing lace t-shirts, 2015 SS new colors are added!
Available in 2 size M / L for is its compact size also clean layering also enjoy a wide range of travelers. Moreover, L size we only can't get exclusive items! Widen the budget on this t-shirt!
Is not only cute, upper arms look thinner!
Classy design on sleeves decorated with flower-type perforated lace. And tiered design, so soft, like puff sleeve cute! As good as properly and glitter because there is GOOD in the Office scene.
To say "puff sleeve is cute, but a little arm bothers' this design is recommended! Cuffs spreading manure comparatively take arms in effect is outstanding, no 細見! body parts is a thin cut and sewn in to scale well. Soft or wedge out and is a comfort. Main is, of course, working at layering item.
---
Height 161 cm off-white, M size using:Check out the outfit
Notation size
"M" and "L."
Actual size
Superior rooms [F] nothing [m] * tag notation
Total length 57 cm bust 82 cm, shoulder width 33 cm sleeve length 14 cm
Sleeve length 31 cm armholes about 39 cm cuff 34 cm
Approx. 79 cm waist 21 cm low-cut neckline depth 12.5 cm
"L."
Total length 59 cm bust 88 cm, shoulder width 35 cm sleeve: 15 cm
Sleeve length 32.5 cm armholes about 39 cm cuff 34 cm
Waist 85 cm 21 cm low-cut neckline depth 13 cm
* Above sizes are our open space is a real size. Is different from the notation size value (JIS standard nude size) product tags, etc. Size detailsClick hereI don't like
Material
Body: 100% cotton
Other: 100% cotton
Washing instructions
Country of origin
Made in China
Stretch fabric
(Do not stretch lace sleeve) stretches a lot
Sheer fabric
There are slightly transparent (is light-colored see-through especially because required inner)
Color
Lilac(Light purplish-pink)
Related products
closet w (double closet) product list
Points to note
• May cause diagonal lines (entire product but with a twist, see State) expands somewhat by washing or cleaning on the characteristics of the material.
• This product uses a very delicate material. Join the vigorous and strong force and open seams, eyes slippage has the properties (yarn is slippery eyes open). Also, because lace is prone to trap trap by wearing belt, buckle and detachable watches, rings, etc., strength of friction ground such as 10 minutes please be careful.
▼ There is somewhat of the nature of the materials, dyes, please wash the sole.
• There remains wet for a long time or place a wet friction (friction in particularly wet), sweat and rain at other clothing to decontaminate.
• Precautions in handling please refer to the product tag attached to products.