West switching dress that you can wear neat portrait
A simple dress with internal cord to the West. If browsing easy length adjustment and in the Petite Ms. is recommended. And comments are gathered at the waist position, portrait effects to produce a beautiful drape. Use of a soft rayon mixed cut and sewn material.
---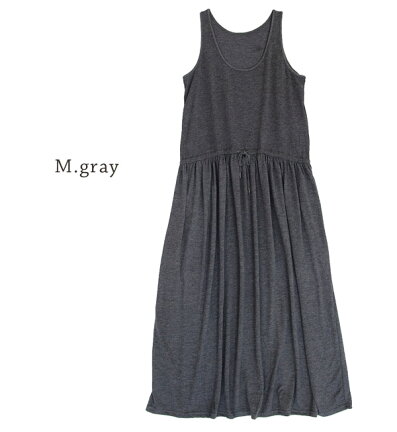 Notation size
"M-size" (one size)
Actual size
Length 122 cm ( head and shoulders out of measurements and skirt length 78 cm ) bust 88 cm
Approximately 26 cm, shoulder width armholes about 40 cm waist 88 cm
Hem around 176 cm 19 cm low-cut neckline depth 19 cm
* Above sizes are our flat place exact size it is. Is different from the notation size value nude ( JIS standard size ) merchandise tags, etc. Click here for details.
Material
Polyester 39% 61% rayon
Washing instructions
Production country
Made in China
Lining
Without
Stretch fabric
The stretch a lot
Sheer fabric
Somewhat sheer (inner is mandatory) must
Color
モクグレー ( slightly marbled sense of old charcoal gray )
ダークカーキ (Deep, relaxed khaki)
Black (Standard black)

Points to note
• This product, on the characteristics of the material by washing and cleaning slightly shrinks the resulting diagonal line (State looks twisted the entire product).
▼ remains wet for a long time, put in wet friction (friction in particularly wet) and sweat and rain: and other apparel to decontamination if so please with your mind.
• Sharing and other things because there is fear of discoloration, wash with washing machine. We recommend your worn once wash received from.
• Due to the nature of the material, or hairball become, prone to hairballs through frictional characteristics. Please wear where it is and when to remove with scissors.
▼ Please check also comes with tag described before handling.