Even a formal scene OK still classy dress material
An elegant fabric feeling chest decorated with lace, one piece. The body designed by color in the race is put on at the switch over. Switching the top Shak was and is overextending and using chiffon material with a slightly glossy matte satin material on the switch at the bottom.
Daley's 'a little dressed' as item does not, of course, pale party scene. Comfortable to wear without switching sleeve Dolman sleeve design & body width and also is, contrary to the classy look relaxed. In a loose cocoon silhouette, body lines, dew crocodile is just and. Nosleeve one piece type liner is sewn to the body rest assured! body and the liner is sewn in the neckline.
---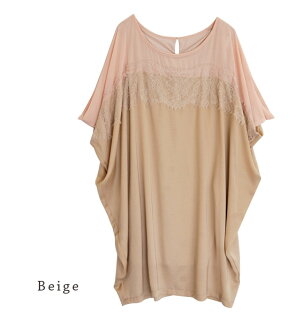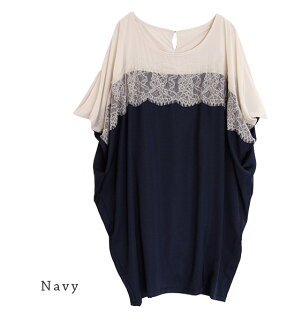 Notation size
"M-size" (one size)
79 – 87 Cm bust 154-162 cm tall
Actual size
Length 88 cm (measured from shoulder) sleeve length 34 cm cuff 33 cm
Chest approximately 174 / 92 cm waist approx. 148 / 96 cm hem around 110 cm
Lining-length approximately 80 cm from the shoulder ( ) neckline width 27 cm deep-cut approximately 10 cm
* Chest and waist is the size of the body / lining.
* This item is not represented is the size of the shoulders, sleeves, armholes tailoring on the switch of the shoulder is not design for the.
* Above sizes are our flat place exact size it is. Is different from the notation size value nude ( JIS standard size ) merchandise tags, etc. Click here for details.
Material
Body: 100% polyester
Lace: 100% nylon
Washing instructions
Production country
Made in China
Lining
Polyester 100% (with solid top-and similar colors of shiny not to stretch dough)
Stretch fabric
Do not stretch
Sheer fabric
Little 透けません
Color
Beige
( Pink beige × of yellowish beige × slightly pinkish-ivory )
Navy
( Ivory x somewhat drab Navy / ivory )
* ( ) in the top x bottom x is the color of the race
Related products
There is aショルダーレースロードスキンドルマンコクーンワン piece
Points to note
▼ your laundry with dry cleaning please.
• Race parts are prone to trap so during insertion and removal also friction and rough surface, such as accessories, belt, around the wall and caught Please note.
▼ remains wet for a long time, put in wet friction (friction in particularly wet) and sweat and rain: and other apparel to decontamination if so please with your mind.
▼ May this product is on the characteristics of the material by cleaning, slightly shrink in the oblique line (State looks twisted the entire product).
▼ Please check also comes with tag described before handling.