Loose form clad Gulli and UV カットカーデ
It's lots of diffrence Dolman Cardigan loose with 80% UV blocking ミリオン ice material. Is the Dolman sleeves fabric with lots of secret seems somehow fossoli cuffs. 着こなせます in producing hybrid is more than Dolman sleeve cuff is switched in ribbed material fit the 'strength' of a neat impression. The point is switched in the ribs from the neckline front and curled stall design.
Inner anywhere, why even more cum and happy to wear ♪ Moreover, this item is no matter up or down can be used.
* Effect continues even after repeated washing for components can be expected UV cut shortbread in the textile.
---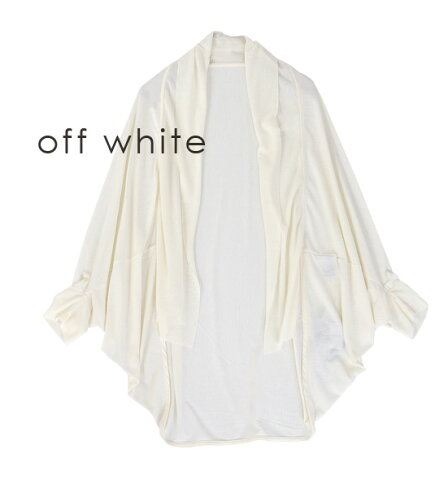 Notation size
"M-size" (one size)
79 – 87 Cm bust 154-162 cm tall
Actual size
Width 106 cm cm, length 94 cm ( out of rib width 17 cm ) sleeve length approx. 7 cm
* Transformation design for a flat place to the State, such as a rectangle. At its next measured as the width. Also length is measured with ribbed fabric switch parts vertical length and sleeve length. Please consider as a guide.
* Above sizes are our flat place exact size it is. Is different from the notation size value nude ( JIS standard size ) merchandise tags, etc. Click here for details.
Material
Polyester 65% rayon 35%
Washing instructions
Production country
Made in China
Lining
Without
Stretch fabric
Do not stretch
Sheer fabric
May slightly sheer
Color
Off white (Off white faintly tinged with light yellow)
モクイエロー (Somewhat dingy mustard yellow)
モクピンク (Soothing salmon pink)
Black (Standard black)

Related products
UV cutoff rate 80% Using the same materialミリオン ice series list
Points to note
▼ Properties prone to pilling ( hairball ). Please wear where it is and when to remove with scissors.
• Hook, please note so easy catching nature and friction and rough surface, such as during insertion and removal, the accessories, belt and surrounding wall and caught.
▼ remains wet for a long time, put in wet friction (friction in particularly wet) and sweat and rain: and other apparel to decontamination if so please with your mind. Also, wash may dye when washing to separate other things.
▼ may shrink slightly by washing or cleaning on the characteristics of the material in the oblique line (State looks twisted the entire product) discoloration.
▼ Please check also comes with tag described before handling.