Unleash mottled colors, distinctive presence Cardigan
Cardigan frosted expressive スラブカットソー, distressed sense of taste. Inexpressible words, with a mixed sense of color to finish. Also color scheme appear and wrap the cuff.
Active season a wide range of items and use the sewn material of moderate thickness. A you can afford nice sizing & Basic has become a silhouette. Is the dare ロックステッチ でみせ seam, simple but good enough to become monotonous existence of user-friendly items.
---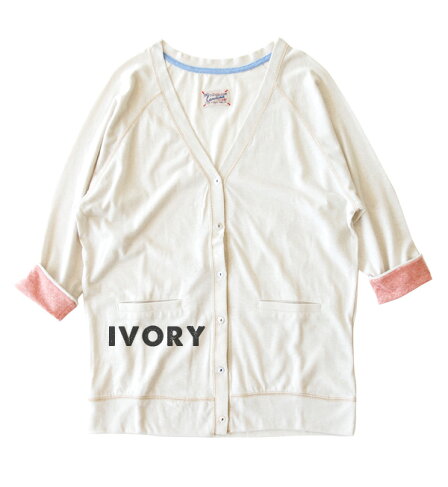 Notation size
"M-size" (one size)
79 – 87 Cm bust 154-162 cm tall
Actual size
Chest 102 cm length 68 cm (measured from shoulder) sleeve length approx. 67 cm cuff 22 cm
Waist: 96 cm hem around 94 cm approx. 21 cm wide-cut-cut deep, 23 cm
* Above sizes are our flat place exact size it is. Is different from the notation size value nude ( JIS standard size ) merchandise tags, etc. Click here for details.
Material
Polyester 60% cotton 40%
Washing instructions
Production country
Made in China
Lining
Without
Stretch fabric
The stretch a lot
Sheer fabric
Ivory: slightly sheer may
Other: little 透けません
Color
Ivory ( somewhat dull ivory * salmon pink )
Pink orange ( salmon pink / ivory )
Green ( whitish green x-Navy grey )
Navy purple (-Navy grey x whitish green )
* ( ) in a body x is inside the sleeve color
* In the mix and off-white.
Related products
There is the same slab tenjiku parka
* Different from the color palette
Points to note
▼ Properties prone to pilling ( hairball ). Please wear where it is and when to remove with scissors.
• Hook, please note so easy catching nature and friction and rough surface, such as during insertion and removal, the accessories, belt and surrounding wall and caught.
▼ remains wet for a long time, put in wet friction (friction in particularly wet) and sweat and rain: and other apparel to decontamination if so please with your mind. Also, wash may dye when washing to separate other things.
▼ may shrink slightly by washing or cleaning on the characteristics of the material in the oblique line (State looks twisted the entire product) discoloration.
▼ Please check also comes with tag described before handling.