Braided rope and border's W line design includes
Simple rope knitting patterns knit border pattern on, casual, I also recommend one piece. BP placed perpendicular to the crochet pattern painted on the vertical line, is a lively impression. Is the items are laid out in the size of salary and worn just tight one piece without any hesitation, Inn, of course ins shirt, such as during the layering is easy to enjoy. It can be changed impression depending on the accessories, such as leggings and stall because simple and easy-to-use silhouette.
---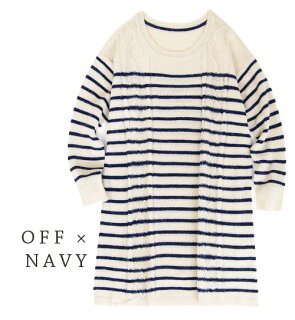 Notation size
"M-size" (one size)
79 – 87 Cm bust 154-162 cm tall
Actual size
Bust 104 cm shoulder width 50 cm length 78 cm cm, sleeve length 45 cm sleeve length approx. 70 cm.
Armholes about 42 cm sleeve 20 cm waist 104 cm hip 112 cm
17 Cm low-cut neckline depth 11 cm
* Knit to size slight individual difference arises. Notation size should be considered approximate.
* The size is our open space is the exact size. May differ from the representation of the tags. Click here for details.
Material
Acrylic 80% nylon 20%
Washing instructions
Production country
Made in China
Lining
Without
Stretch fabric
The stretch a lot
Sheer fabric
See-through from the stitch (inner is required)
Color
Clear * Navy ( Japanese ivory / dark charcoal )
Black x off ( Dark charcoal with white fluff x of thin ivory )
* ( ) in a body x is the color of the border
Points to note
• Knit nature, just "thread seams" and somewhat "fray", also in shapes and sizes prone individual product is. As you can understand thank you.
▼ Properties prone to pilling ( hairball ). Please wear where it is and when to remove with scissors.
• Materials, please note that fiber on the trap-prone, so wear and removal when the fold on watches & accessories-belts, etc..
▼ remains wet for a long time, put in wet friction (friction in particularly wet) and sweat and rain: and other apparel to decontamination if so please with your mind. Also, please wash the infection when washing you may share and other things.
▼ may shrink slightly by washing or cleaning on the characteristics of the material in the oblique line (State looks twisted the entire product).
• Subject characteristics on the products, take position of the fabric creates a pattern and nuance slight individual difference, different images and facial expressions. Also, does not match the pattern in the seam to necessarily.
▼ Please check also comes with tag described before handling.