Like the race roughly patterned knit pullover
Preparation is already? Tops & clear's must-haves of the season. Nowadays lot of roughly enjoy layering on a big stitch, is a relaxed Dolman sleeve pullover. Silhouette is the drop position sleeve fell off the shoulder-mounted shoulder. Camisole in tank top, dress in shirts and more... Or in what as soon as your serves wide code. Yul was and while in the atmosphere, casual look is cool. Camisole is hiding arms, but I want to wear. Oh, very useful item, one that is useful!
---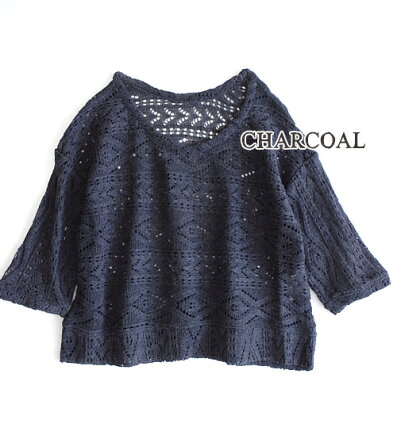 Notation size
"M-size" (one size)
79 – 87 Cm bust 154-162 cm tall
Actual size
Ringtones shoulder 49 cm bust 98 cm length approx. 43 cm ( measure from shoulder ) sleeve length 25 cm
Sleeve length 49 cm armholes about 34 cm 23 cm cuff hem around 102 cm
20 Cm low-cut neckline depth 10 cm
* Deformation design switching shoulders with pretty outside, so the shoulders, sleeves and armholes as referring to please. Also because the armholes are measure switching part is the arm size.
* Knit to size slight individual difference arises. Notation size should be considered approximate.
* The size is our open space is the exact size. May differ from the representation of the tags. For more information of the size Click here From.
Material
Polyester 65% cotton 35%
Washing instructions
Production country
Made in China
Lining
Without
Stretch fabric
The stretch a lot
Sheer fabric
See-through from the stitch
Color
Charcoal (A moderate charcoal gray)
Beige ( Dark because of the beige )
オフベージュ (Thin Beige)

Points to note
• Materials, please note that fiber on the trap-prone, so wear and removal when the fold on watches & accessories-belts, etc..
▼ so time remains wet for a long time, put in wet friction (friction in particularly wet) and sweat and rain, other clothing to decontamination if you like!
▼ may shrink slightly by washing or cleaning on the characteristics of the material in the oblique line (State looks twisted the entire product).
▼ Properties prone to pilling ( hairball ). Please wear where it is and when to remove with scissors.
• Sharing and other things as possible when washing, wash with washing machine.
▼ Please check also comes with tag described before handling.