Ethnic natural NEW genre!
Feel something ethnic, natural one piece. 2013 SS design multi-border pattern painted on the hem. Using the moderate thickness and firmness in India cotton chambray fabric is in the spring and summer fit. Leg length effect leads to switching in the waist high position, in addition to waist and hip circumference in A line and covers me. Look rich and seasonal fabrics of the India cotton is. And omits the extra clear upper chest, with fluffy skirt, delicate, I also point is difficult to thickly clad.
---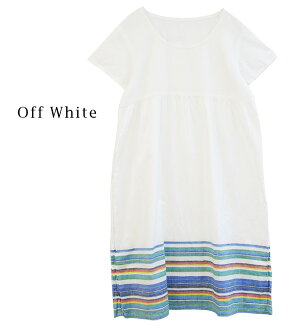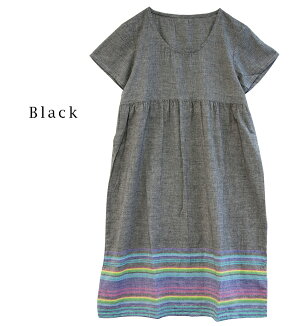 Actual size
Bust 93 cm, shoulder width 36 cm overall height approx. 93 cm (measured from shoulder) sleeve length 14.5 cm
Sleeve length approx. 32 cm armholes about 42 cm 38 cm cuff
Hem around the waist 94 cm (measured in the toggle portion) approx. 130 cm
20 Cm low-cut neckline depth 15 cm
* The size is our open space is the exact size. May differ from the representation of the tags. Click here for details.
Material
100% Cotton
Washing instructions
Production country
Made in India
Lining
Without
Stretch fabric
Do not stretch
Sheer fabric
Somewhat sheer (inner is mandatory) must
Color
Off white
( off white x blue, emerald green, yellow, red, black, etc. )
Black
( Dark because of gray × purple, magenta, emerald-green, yellow-green, yellow, etc. )
* ( ) in a body x is the color of the border
* Common fabric chambray material because the whole has whitish color

Points to note
▼ This product we are using fabric made in India. Weave will enjoy scratches, dye may be uneven, but as one key feature of each piece different texture.
▼ so time remains wet for a long time, put in wet friction (friction in particularly wet) and sweat and rain, other clothing to decontamination if you like!
• Dark products lose color, since others are listed separately, and wash it.
▼ may shrink slightly by washing on the characteristics of the material in the oblique line (State looks twisted the entire product).
▼ Please check also comes with tag described before handling.