Sneakers are pumps with frilly socks
Socks casually drew a border pattern in knitting patterns. Mouth is decorated with fluffy tulle lace ruffles. And rich stretch woven sweet body comfort. Rumpled up and in Babe's wearing in the middle-length stretched even at short, should be arranged by the code.
---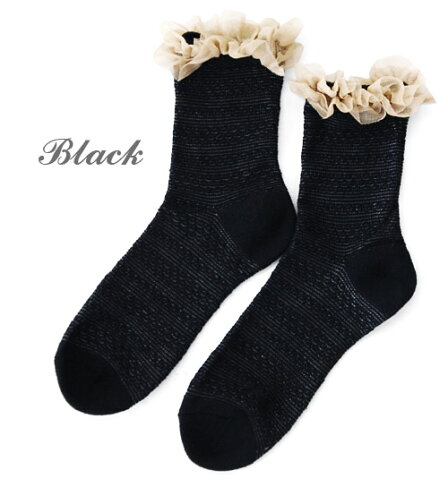 Notation size
s 23-25 cm. (one size)
Size
Width: 8.2 cm legs ( heel-toe ) of length: approx. 21 cm
Heel height: approx. 16 cm
* The size is our open space is the exact size. May differ from the representation of the tags.
Material
Body: polyester cotton and other
Lace: 100% nylon
Production country
Made in China
Color
Black ( Black standard x pale khaki beige dusky )
Sachs ( light blue with white / pale khaki beige dusky )
Peach ( faintly Orange-pale pink x White )
Beige ( light beige × white )
* ( ) in a body color x is the color of the race
Points to note
• This product on health, please try later returns and exchanges cannot accept.
• When your washing always Internet use.
▼ remains wet for a long time, put in wet friction (friction in particularly wet) and sweat and rain: and other apparel to decontamination if so please with your mind. Also, please wash and other things.
• Materials, please be care fibers on the trap-prone, so wear and removal when the fold on watches & accessories-belts, etc..
• This product, on the characteristics of the material by washing and cleaning slightly shrinks the resulting diagonal line (State looks twisted the entire product).
• Tulle piece is we bleed specifications. Repeated washing and wear increases cutting surface, the fray. Please wear the points come to mind if you like fraying where it is removed with scissors. There may be individual differences the tulle part waving people.
▼ Please check also comes with tag described before handling.