Great with both pumps and sandals!
Like knitting watermark, such as race, like the FishNet socks... directing the foot Lady in full and delicate crochet pattern. Almost to toe design with delicate crochet patterns, so great, such as pumps, peep toe shoes with ◎. Tight and stretchy, me comfortably on foot, is a total comfort.
---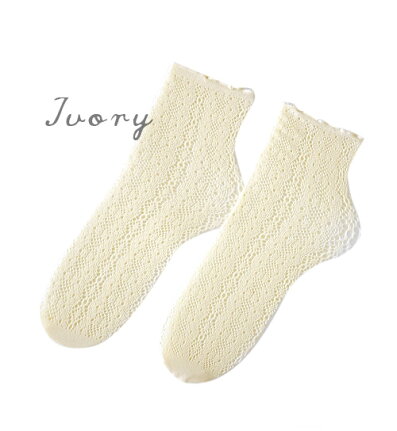 Notation size
s 23-25 cm. (one size)
Size
Width 8 cm legs ( heel-toe ) of approximately 20 cm in length
Heel height 11 cm
* Above sizes are our flat place exact size it is.
Material
Cotton polyester and other
Production country
Made in China
Color
Ivory (A yellowish ivory)
Pink (Salmon pink)
Blue (The thin blue shade of gray)

Points to note
• This product on health, please try later returns and exchanges cannot accept.
• This product is used very delicate material. Join the vigorous and strong force and open seams, eyes slippage has to nature (weaving yarn open slip eye). Hook, frictional strength of ground such as pay attention please.
• When your washing always Internet use.
▼ remains wet for a long time, put in wet friction (friction in particularly wet) and sweat and rain: and other apparel to decontamination if so please with your mind. Also, please wash and other things.
• Materials, please be care fibers on the trap-prone, so wear and removal when the fold on watches & accessories-belts, etc..
• This product, on the characteristics of the material by washing and cleaning slightly shrinks the resulting diagonal line (State looks twisted the entire product).
▼ Please check also comes with tag described before handling.