May differ from actual colors pictured above wearing a little. Please see the product pictures below color. Also, if you have any concern, please feel free to contact.
Height 167 cm 37 use: Check the code
GAIMO (ガイモ)
Long-established brand GAIMO was founded in 1960 in the town of ラリーシャ in Spain. And being one thing to carefully manufactured jute Sandals main, globally endorsed in its robustness and ease of walking.
From such GAIMO "more elegant, and easy-to-wear pumps ' concept launched in 2008, this time appeared"marta". It is utilizing the GAIMO's know-how and expertise, attention line.
Cool Leopard print plus at your feet.
Marta designed in wood-heeled sandals. With Gaim classic espadrille is also features a classy atmosphere. Upper part with Leopard pattern leather, cool and very adult-like design will produce from the feet. Inked Ribbon to uppers in three-dimensional design, even moderate weight born at the feet. Easy to walk by delicate straps slim shows the ankle, foot and fastened it's charm. Travelers has become a platform with a storm, so I usually heal in berth is recommended. So has rubber on the bottom safety slip! Unique comfort of the brand, and 'real' presence. Want to continue wearing cherished luxury is one foot.
---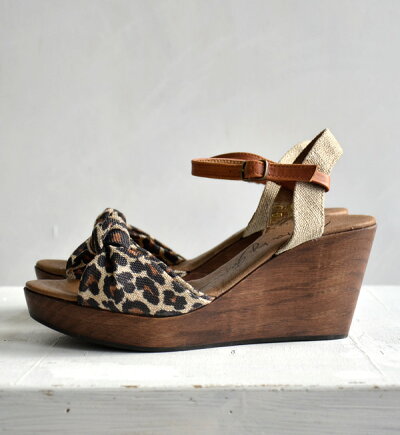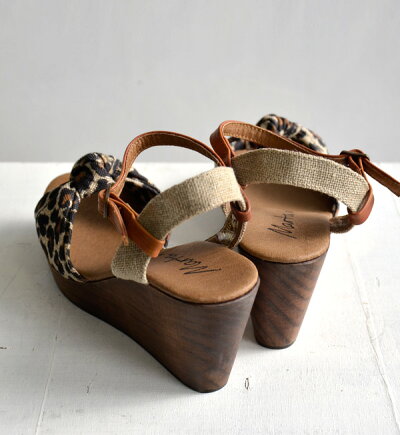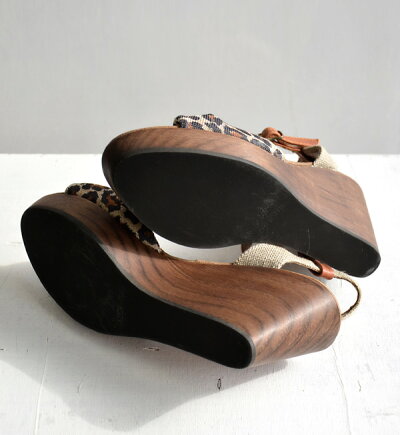 On the left and Utilizing wood wood wedge sole.
On the right and Strap allows height and length adjustment.
Bottom left / Toes 3 cm, heel in the 8 cm heels legs outstanding results!
Under the right / Rubber-soled shoes from peace of mind.

Right / Adult Leopard printed jute cute design is attractive.
Notation size
S EUR36? t, s EUR37? t? s EUR38."s EUR39."
Actual size
S EUR36? t (Japan size approx. [23.0 cm])
Approx. 20.5 cm width 7 cm heel height approx. 8 cm
S EUR37? t (Japan size approx. [23.5 cm])
Length 21 cm, width 7 cm heel height approx. 8 cm
S EUR38? t (Japan size approx. [24.0 cm])
Length approx. 21.5 cm width 7.5 cm heel height approx. 8 cm
S EUR39? t (Japan size approx. [24.5 cm])
Length 22.5 cm, width 7.5 cm heel height approx. 8 cm
* Height of the front part is about 2 cm.
* Around the ankles up by approximately 30 cm ( 1 cm increments and 5 holes, adjustable )
* The size is our open space is the exact size. May differ from the representation of the tags. For more information of the size Click here From.
Material
Upper: canvas
Insole: leather
Saul: wood ( the bottom rubber )
Production country
Made in Spain
Color
Upper: light beige × black / brown Leopard
Strap: light brown and natural

Related products
Espadrille by GAIMO ( エスパドリーユバイガイモ ) &
Marta by GAIMO ( マルタバイガイモ ) product list
Points to note
▼ may be seen scratches like no scuffs or wrinkles due to sensitive material, leather insole.
▼ Saul part we use natural materials, so if you have slight scratches, etc.. Somewhat blocky or enjoy as a characteristic of the product there is a non-uniformity of finish.
▼ characteristics on the products, the dough taking positions just some individual differences, such as pattern and nuances, different images and facial expressions. Also does not match the pattern in the seam to necessarily.
• Ago use make sure indoors try. Also, please note that cannot accept any return or exchange of goods are used once outside.
(Except sale items and special planning participation products) footwear more than 5,250 yen (tax included) * size exchange one time during their free services! ⇒ For more information click here!