SUPERGA ( Superga )
Sneaker brand in Italy, with over 100 years of history, SUPERGA ( Superga ). From the wide range of basic and sophisticated design and the celebrities are loved.
Sticking to the brand, wear comfortable floral print sneakers
Low-cut sneakers designed in floral print fabric. Of the SUPERGA attached to the side of the upper part is brand appeal ◎. Is not slippery walkable because Saul firmly the thickness of the rubber material is on the bottom. Experience the comfort of the SUPERGA was calculated.
---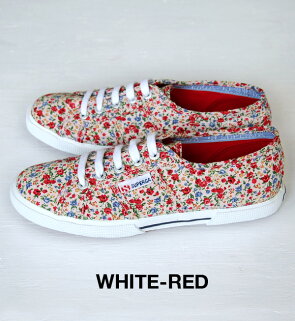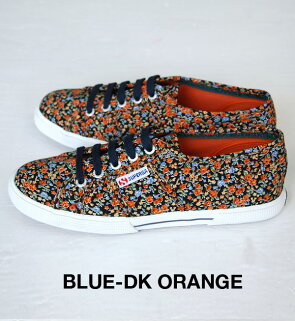 Notation size
S 36 sizes? t (size approx. [23.0 cm])
S 37 sizes? t (size approx. [23.5 cm])
S 38 size man (size approx. [24.5 cm])

Actual size
S 36 size :23.0cm.
Length approximately 24.5 cm width 8 cm height of about 7.5 cm
S 37 size :23.5cm.
Length 25 cm width 8 cm height 8 cm
S 38 size :24.5cm.
Length 26 cm, width 8.5 cm height 8 cm
* Above sizes are our flat place exact size it is. Click here for details.
Material
Upper: cotton
Saul: natural rubber
Production country
Made in Viet Nam
Weight
Leg approximately 300 g (size 37)
Color
WHITE-RED
( Brighten somewhat reddish-beige x red / red, blue, green, yellow, etc. )
BLUE-DK ORANGE
( near black Dark Navy x Orange / Orange, green, blue, yellow, etc. )
* ( ) in location x is a color pattern inside
Related products
SUPERGA ( Superga ) product list
Points to note
▼ Please enjoy as a characteristic of the product characteristics on the products, fabric take position varies 1 point 1 point pattern part there is difference in facial expression,.
▼ may dye when wet in the rain or sweat to please with your mind.
• Ago use make sure indoors try. Also, please note that cannot accept any return or exchange of goods are used once outside.
(Except sale items and special planning participation products) footwear more than 5,250 yen (tax included) * size exchange one time during their free services! ⇒ more information click here!