Enjoy one piece polka dot x floral
Luxury design your doubles the fun polka dot and floral design is docked, stall. Only both sides in floral and others has become the polka dot floral and similar colors. How to roll and stall here characterized by the position of the fabric look can you show me a lot of expression. Not only sweet is a distinctive and stylish impression. Side has become a minor fringe both sides still left the body's delicate, mature point.
Material is rayon gauze material feels soft and fluffy, you can feel free to long season temperature measures and sunburn prevention. Not just around the neck is a large format, so even wrap your ◎.
---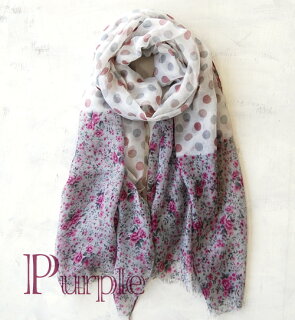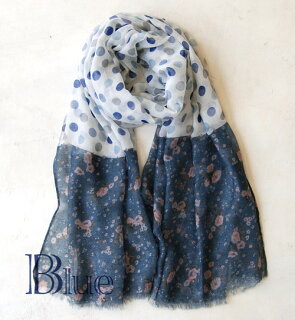 Size
Length approx. 192 cm (excluding fringe) width 95 cm fringe about 1 cm
※ There is slight individual difference in size. Notation size should be considered approximate.
* The size is our open space is the exact size. May differ from the representation of the tags.
Material
Rayon 100% ( ピスコース )
Washing instructions
Production country
Made in China
Color
Purple [Off-white x wine, light gray, pale Maroon]
( light grey / pink-magenta-grey )
Blue [Ivory x shallow Navy]
( Navy × pink beige )
* [] Is in of land x color dots, ( ) in area x floral color

Points to note
• This product we use very delicate fabrics. Open the seam, eyes anticrease care picked up properties to open the yarn slip eye, so wear and removal when the projection clock, accessories belts, etc..
• Subject characteristics on the products, the dough taking positions just some individual differences nuances and attitude of the size, design, different images and facial expressions.
▼ remains wet for a long time, put in wet friction (friction in particularly wet) and sweat and rain: and other apparel to decontamination if so please with your mind.
• Our products are mechanical production process on the just "yarn for weaving fabric seam" and somewhat "fray", other fiber "blend", may also cause some "errors" in the shape or size. Please understand and would like to ask.
▼ Please check also comes with tag described before handling.