May differ from actual colors pictured above wearing a little. Please see the product pictures below color. Also, if you have any concern, please feel free to contact.
Height 168 cm charcoal use: check the code
About the stalling of the BAGMATI ( Bagmati )
Keep making a scarf or blanket at our own factory in Nepal and India BAGMATI ( Bagmati ) from colorful color block scarf! BAGMATI stall and produced in Nepal and India, unique rustic texture comes with antique looms hardly exists in the currently developed countries. Color giving off ethnic and exotic atmosphere, ethnic color エコロジカルファッション (fashion not an artificial feeling of using natural materials, using natural shades, too) like to assimilate instructions from Japan and more are made to fit Japanese tastes.
Decorate a unique code 大ぶり fringe scarf
BAGMATI in texture and presence, autumn/winter styles-pleasing ( Bagmati ) stall. Large stall this time became an accent bold fringe is unique, motion is introduced. Fringe uses a random thickness slab yarns. In the impression material textures is warm is a simple and very adult-like impression. Little brushed a fluffy, soft touch, is plenty of items with suitable thickness and large volume.
---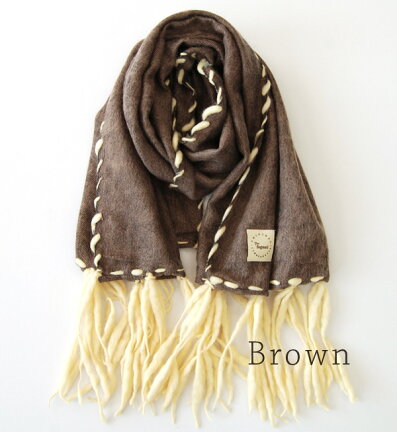 Size
About 166 cm (excluding fringe) width 60 cm fringe about 18 cm
* The size is our open space is the exact size. May differ from the representation of the tags.
Material
Acrylic 65% cotton 35%
Washing instructions
Production country
Made in Nepal
Color
Brown ( gentle dark fading x cream )
Charcoal ( slightly tinged with blue charcoal x dark Mint Green )
Navy ( strong navy blue x light grey slightly greenish )
* ( ) in a body color x is a color fringe
Related products
BAGMATI ( バグマティー ) product list
Points to note
▼ your laundry with dry cleaning please.
▼ weave scratch a piece of color mixture, thread thickness is not uniform, but as one of the characteristics of the goods enjoy the texture of individual.
• Materials, please note that picked up fibers on the trap-prone because when worn and detachable, projection clocks, accessories belts, etc..
▼ remains wet for a long time, put in wet friction (friction in particularly wet) and sweat and rain: and other apparel to decontamination if so please with your mind.