Enjoy the borders and check in one piece! Oversized scarf
Stall enjoy block checks and border pattern at the same time. Check border pattern, front to back side and wrap your design pattern is visible. Large format so neck round and round boobs and rolled, showing the volume ◎.
Soft soft soft 100% Acrylic fabric and comfortable. Secures front kilt pins are clean, and the thermostat to the asymmetrical. Width of the arrangement will open the jerk. Likely as at-home or blanket handy!
---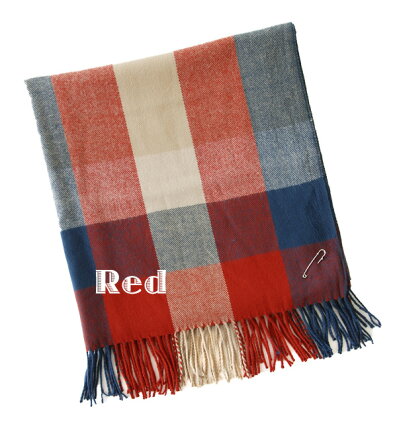 Size
About 188 cm (excluding fringe) width 86 cm fringe about 8 cm
* Above sizes are our flat place exact size it is.
Material
100% Acrylic
Washing instructions
Production country
Made in China
Color
Red ( Red and dull blue, beige and ivory )
Pink (Vivid pink / brown orange and bright purple and yellow-green)
Mustard ( mustard and bright Navy, dark green, dark order of Red purple )
* ( ) in a color used in the body is
Points to note
▼ so time remains wet for a long time, put in wet friction (friction in particularly wet) and sweat and rain, other clothing to decontamination if you like!
▼ the trap when wearing a belt, buckle and detachable watches, rings, etc. pay attention please.
• Our products are mechanical production process on the just "yarn for weaving fabric seam" and somewhat "fray", other fiber "blend", may also cause some "errors" in the shape or size. Please understand and would like to ask.
▼ Properties prone to pilling ( hairball ). Please wear where it is and when to remove with scissors.
▼ Please check also comes with tag described before handling.