May differ from actual colors pictured above wearing a little. Please see the product pictures below color. Also, if you have any concern, please feel free to contact.
Height 159 cm purple use: Check the code
Border x borders and color x color light scarf
In the 3 border pattern, this year seems to be 'schemes' design is pretty light scarf. Wearing shawl style so there is a good length and width, roll up OK! Is an item change the impression by position shows how to roll by and enjoy. It is a light material, such as gauze, so the accent of the code, of course, UV radiation and cooling measures on my neck, and doing great will.
---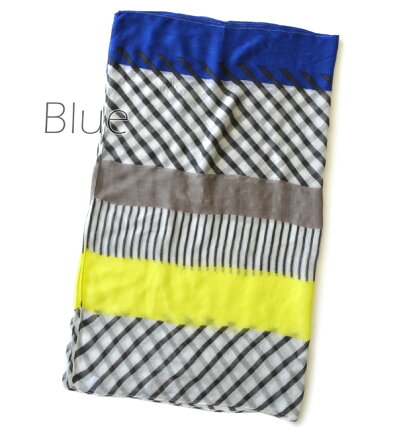 Size
174 Cm, width 71 cm
* Product prone to individual differences, because the display size as referring to please.
* Above sizes are our flat place exact size it is.
Material
100% Rayon
Washing instructions
Production country
Made in China
Color
Blue ( dark blue / grey beige x lemon yellow )
S off-white x thin black. "
Green ( with emerald green x ライトグレージュ x baby pink )
S off-white x thin black. "
Purple ( Dark order of lavender x orange pink x light khaki beige )
S off-white x thin black. "
* ( ) in the color scheme, color,? s? t is in color borders part of x is the color of the line.

Points to note
▼ your laundry with dry cleaning please.
• This product is used very delicate material. Join the vigorous and strong force and open seams, eyes slippage has to nature (weaving yarn open slip eye). Trap when wearing a belt, buckle and detachable watches, rings, etc. by the frictional strength of ground such as 10 minutes please be careful.
▼ characteristics on the products, the dough taking positions just some individual differences, such as pattern and nuances, different images and facial expressions.
• Our products are mechanical production process on the just "yarn for weaving fabric seam" and somewhat "fray", other fiber "blend", may also cause some "errors" in the shape or size. Please understand and would like to ask.
▼ remains wet for a long time, put in wet friction (friction in particularly wet) and sweat and rain: and other apparel to decontamination if so please with your mind.
▼ may shrink slightly by cleaning on the characteristics of the material in the oblique line (State looks twisted the entire product).
▼ Please check also comes with tag described before handling.