May differ from actual colors pictured above wearing a little. Please see the product pictures below color. Also, if you have any concern, please feel free to contact.
Height 161 cm Navy use: check the code
Not too sweet floral linen blend light stall
Fresh fabrics of cotton linen material using the floral fringe scarf. Is an item lowers with a touch of floral patterns, such as blur, colours, not too sweet impression. Volume sensation wrapped with unique hemp mixed material texture and boasts, so code from this seasonal accent to & day makes a big success to burn, I ♪
Decorated this stall has a special coating to make the difficult through the UV processing. Versatile, right?!

* Measure of effect is one season.

---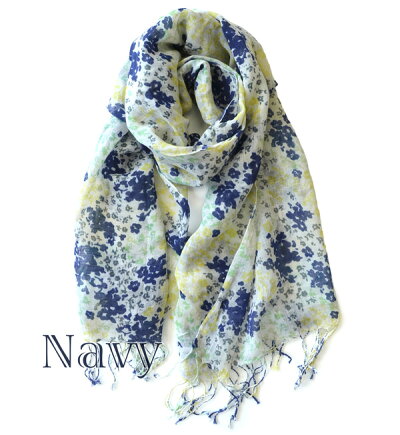 Size
About 162 cm (excluding fringe) width 56 cm fringe about 8 cm
* Product prone to individual differences, because the display size as referring to please.
* Above sizes are our flat place exact size it is.
Material
55% Cotton 45% linen
Washing instructions
Production country
Made in China
Color
Navy (Navy, yellow-green, yellow and grey)
Orange (Orange, lavender, yellow and Mint green)
Pink (Pink, Orange, light green and beige)
* Ground color is common and ivory
Points to note
• UV care product is not processed to last permanently. Put a wear will disappear. Measure of effectiveness is one season.
• This product we use very delicate fabrics. Open the seam, eyes anticrease care picked up properties to open the yarn slip eye, so wear and removal when the projection clock, accessories belts, etc..
• Our products are mechanical production process on the just "yarn for weaving fabric seam" and somewhat "fray", other fiber "blend", may also cause some "errors" in the shape or size. Please understand and would like to ask.
▼ remains wet for a long time, put in wet friction (friction in particularly wet) and sweat and rain: and other apparel to decontamination if so please with your mind.
• There may be characteristics on the products, just some individual differences, such as pattern and nuances, different images and facial expressions.
▼ Please check also comes with tag described before handling.