May differ from actual colors pictured above wearing a little. Please see the product pictures below color. Also, if you have any concern, please feel free to contact.
Height 161 cm red x green using: Check the code
タッセルフリンジ with gingham scarf
Bright and distinctive stall girly gingham check pattern, plus color design. Good color extravagant colours and mood is bright with items. To the edge of the color parts Oriental embroidery ON ♪ mixed small fringes on both sides, with fringe tassel style. Good soft material excellent breathable cotton material, can feel free to long season temperature measures and sunburn prevention. Not just around the neck is a large format, so even wrap your ◎.
---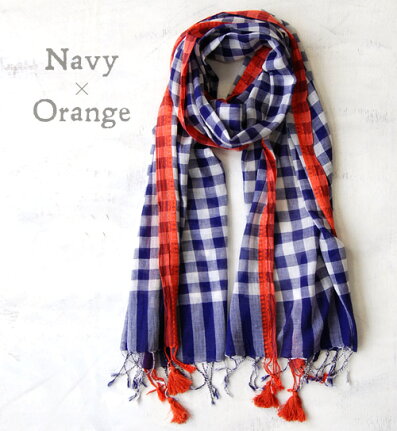 Size
Length 172 cm (excluding fringe) width 58 cm fringe about 6 cm
* The size is our open space is the exact size. May differ from the representation of the tags.
Material
Body: 100% cotton
Embroidery: 100% rayon
Washing instructions
Production country
Made in India
Color
Navy / Orange ( Navy Standard x red-leaning Orange )
Red x Green ( dull red with white × yellow green )
Beige / Red ( Cream Yellow x red tea dull )
* ( ) in a body check x-side embroidery color
"Common" ground color is off white

Points to note
▼ This product we are using fabric made in India. Weave will enjoy scratches, dye may be uneven, but as one key feature of each piece different texture.
• Our products are mechanical production process on the just "yarn for weaving fabric seam" and somewhat "fray", other fiber "blend", may also cause some "errors" in the shape or size. Please understand and would like to ask.
• This product we use very delicate fabrics. Open the seam, eyes anticrease care picked up properties to open the yarn slip eye, so wear and removal when the projection clock, accessories belts, etc..
▼ remains wet for a long time, put in wet friction (friction in particularly wet) and sweat and rain: and other apparel to decontamination if so please with your mind.
• There may be characteristics on the products, just some individual differences, such as pattern and nuances, different images and facial expressions.
▼ Please check also comes with tag described before handling.