May differ from actual colors pictured above wearing a little. Please see the product pictures below color. Also, if you have any concern, please feel free to contact.
Height 161 cm green use: check the code
Light scarf handy at the turn of the season has arrived! Has become a two-lap eyes of coarse cotton 100% gauze fabric using the pattern and plain. You never leave separately, and are sewn up and down by about 20 cm in the middle of the stall. Either fabric on each side fringe about and lively impression ◎ adult slightly transparent lace pattern plane using the main feed items... the blank side of the main use of can also enjoy the atmosphere ♪ out and just put the neck is the sheer presence, winding around the moderate volume of useful is one piece.
---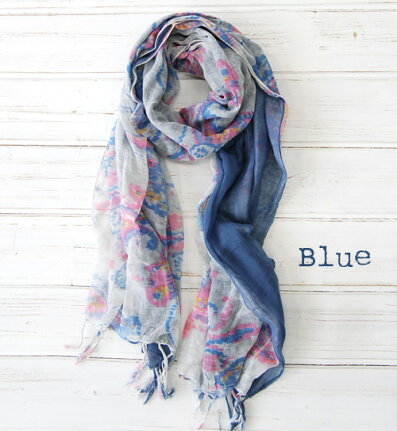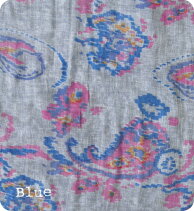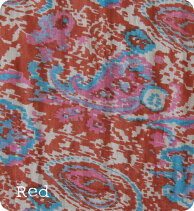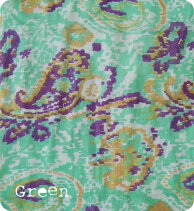 Size
Length 184 cm (excluding fringe) width 45 cm fringe approximately 7 cm
Our products are manufactured on a 1 piece 1 piece size vary. Display size please refer to guideline.
* The size is our open space is the exact size. May differ from the representation of the tags.
Material
100% Cotton
Washing instructions
Production country
Made in India
Color
Blue ( white blue pink, pale orange, etc. )
[Smoky Blue]
Red ( somewhat dull red-white, light blue, pink, lavender, etc. )
[Bluish-gray]
Green (Emerald green, purple, white, yellow etc)
[Off-white]
* ( ) in a patterned color, [] is is the color of the solid parts
Points to note
▼ This product we are using fabric made in India. Weave will enjoy scratches, dye may be uneven, but as one key feature of each piece different texture.
• Our products are mechanical production process on the just "yarn for weaving fabric seam" and somewhat "fray", other fiber "blend", may also cause some "errors" in the shape or size. Please understand and would like to ask.
• Uses delicate fabrics, hook-so easy catching nature and during insertion and removal also friction with rough surface, such as accessories, belt, around the wall and caught Please note.
▼ with fading when washing, for some, so we avoid washing the other seperately, please wash separately. You may also shrink slightly when washing.
▼ remains wet for a long time, put in wet friction (friction in particularly wet) and sweat and rain: and other apparel to decontamination if so please with your mind.
▼ Please check also comes with tag described before handling.