May differ from actual colors pictured above wearing a little. Please see the product pictures below color. Also, if you have any concern, please feel free to contact.
Height 163 cm beige use: check the code
In autumn & winter materials enjoy fluffy Leopard beret!
Leopard print beret plus accent code pique patsu and eyes in 2012 / 13 AW version appeared again. This soft offers used, soft かい被り comfortable Angola mixed material feels soft and smooth. Color is renewed and 2 color development.
Leopard print tend to be spicy also if Angora Blend fur such a friendly atmosphere:. Beret Hat body is easy to wear in a basic form, tab to the top with a cute accent. The cover depth, so still wearing, we xxx stuffed mouth once in a while, wear the OK!
---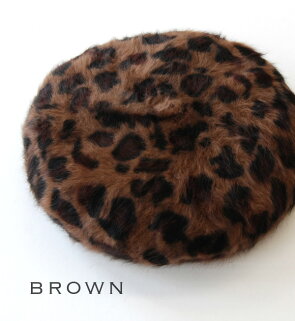 Size
Around the head about 60 cm 1.5 cm (height)
* Slight individual difference. Please consider the standard notation size.
* The size is our open space is the exact size. May differ from the representation of the tags. Click here for details.
Material
Hair (Angola) 55% rayon 45%
Washing instructions
Production country
Made in China
Lining
Without
Color
Brown ( faint reddish light brown x black and Red purplish-brown )
Beige ( faint reddish light beige × black / brown )
* ( ) in a body color x is a leopard print color
Related products
In the suit, there is a Hat
* Color names are the same, color is slightly different. Also please note, mixed rate may vary.
Points to note
• Our products are mechanical production process on the just "yarn for weaving fabric seam" and somewhat "fray", other fiber "blend", may also cause some "errors" in the shape or size. We are very sorry but kindly served as thank you.
▼ may shagging, hairball and hair loss caused by friction.
Do not wash down:.
• This product is wet friction and water in there can be discolored by. Please note when used in wet weather or light color clothing to wear.
▼ Please check also comes with tag described before handling.