Plump with Pom Pom wool hat with volume.
Natural feeling with plenty of soft brushed wool 100% knit beret style hat. In woven colorful pattern designs in soft, fluffy well bright film is cute I like girls ♪ accented big top Pom Pom is more volume of. Pom Pom PIN is removable, so please arrange according to code! Is also casually with an antique treble clef charm point!
Two colors are on deployment, Brown reindeer pattern, Grey painted sheep pattern.
---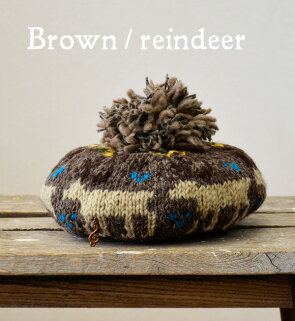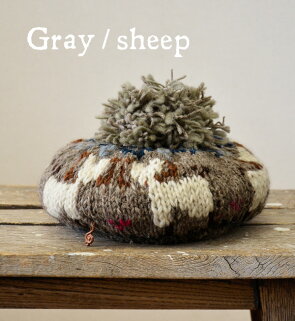 Notation size
"One size fits all."
Size
Head around 34-58 cm ( position sizing-when extended ) height 5 cm Pom diameter 12 cm (be available)
* Knit to size slight individual difference arises. Notation size should be considered approximate.
* The size is our open space is the exact size. May differ from the representation of the tags. For more information of the size Click here From.
Material
100% Wool
Washing instructions
Production country
Made in Nepal
Lining
Without
Color
Brown/reindeer ( dark brown x Brown, yellow, thin Mocha Aqua cream, etc. )
[Gentle mocha, black, ivory, etc.]
Gray / sheep ( of Mocha faded gray × faded blue, ink blue, ivory, Brown, etc. )
[Thin gray-green, Brown and white, etc.]
* Upper ( ) within the main body color x other colour,
Lower [] in the Pom Pom color is
Points to note
• Knit nature, just "thread seams" and somewhat "frayed" "blend" and also to the shape and size individual differences-prone goods is. As you can understand thank you.
Do not wash down:.
▼ so time remains wet for a long time, put in wet friction (friction in particularly wet) and sweat and rain, other clothing to decontamination if you like! Also, please wash and other things.
▼ Properties prone to pilling ( hairball ). Please wear where it is and when to remove with scissors.
• Materials, please take care fibers on the trap-prone, so wear and removal when the fold on watches & accessories-belts, etc..
▼ Please check also comes with tag described before handling.