Well bright girls suffer form the natural Hat!
Tulip hat, knitted the colorful texture ヘンプウール material. Loosely woven knit soft, hand-made feeling atmosphere and well Rui is a form item! 被れ in the form contains a wire on the edge of the collar, and stable, adjust the angle like that is possible. The same dough surrounding the Ribbon straps accent that moves!
Directly touch the skin covering mouth with cloth and, offers a comfortable fit.
---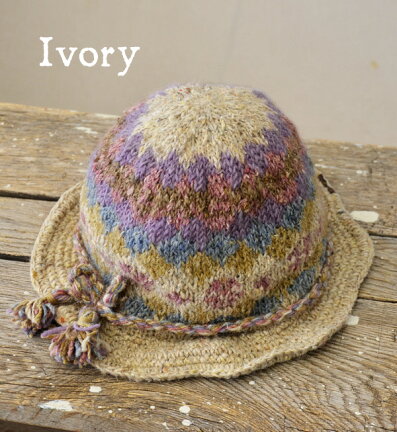 Notation size
"One size fits all."
Size
Around the head about 58 cm height approx. 15 cm collar 5 cm
* Knit to size slight individual difference arises. Notation size should be considered approximate.
* The size is our open space is the exact size. May differ from the representation of the tags. Click here for details.
Material
Wool 70% hemp 30%
Washing instructions
Production country
Made in Nepal
Lining
Without
Color
Ivory ( strong dull yellow ivory and dull yellow, light blue, purple, thin red purple etc )
Dark pink ( dull magenta, baby pink, purple, lime green, dull green, etc. )
Light blue ( dull cyan, pale orange, green, ivory, dusky yellow, etc. )

Points to note
• Knit nature, just "thread seams" and somewhat "frayed" "blend" and also to the shape and size individual differences-prone goods is. As you can understand thank you.
Do not wash down:.
▼ so time remains wet for a long time, put in wet friction (friction in particularly wet) and sweat and rain, other clothing to decontamination if you like! Also, please wash and other things.
▼ Properties prone to pilling ( hairball ). Please wear where it is and when to remove with scissors.
• Materials, please take care fibers on the trap-prone, so wear and removal when the fold on watches & accessories-belts, etc..
▼ Please check also comes with tag described before handling.