Different material sense expressed in print, fluorescent color bag
Brand to expand the items MADE IN TOKYO a strong silk screen prints based on the concept HAVE FUN SILKSCREEN PRINTING, SERIGRAPHY TOKYO ( セリグラフィートーキョー ). The fluorescent colors that SERIGRAPHY TOKYO, vivid color silk screen print design eye-catching bag. As early as by adding new colors, is a re-appearance!
Using a sturdy canvas material of moderate firmness and thickness. Has produced by printing the color in the middle of sewing seam gap ink reservoir, or were switched in the heterogeneous material texture. Can be sewn and printed communication is MADE IN TOKYO.
Pockets are big outside the sense of size A4 magazine also completely vertical to fit the sides with snap button to open and close.
---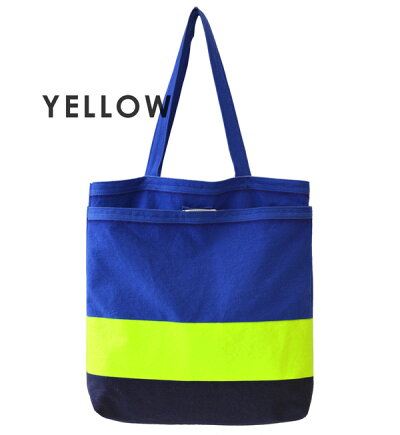 Size
Width 39 cm height 37 cm
Hold about 58 cm non-adjustable handle width 3 cm
* Above sizes are our flat place exact size it is. Click here for details.
Weight
Approx. 390 g
Features
Outside pocket two inside pockets 4
Material
100% Cotton
Production country
Made in Japan
Lining
Without
Color
Yellow
( dark blue x fluorescent yellow x black )
Pink
( like bleach denim light blue x fluorescent pink x light blue like bleach denim )
Orange
( slightly whitish-yellowish green × fluorescent orange x slightly whitish-yellowish green )
* ( ) in the principal colors × Central color x is the color of the bottom-

Related products
SERIGRAPHY TOKYO ( セリグラフィートーキョー ) product list
Points to note
• Our products are mechanical production process on the just "yarn for weaving fabric seam" and somewhat "fray", other fiber "blend", may also cause some "errors" in the shape or size. We are very sorry but kindly served as thank you.
• Avoid heat or high temperature, benzine, thinner or other volatile, please do not wipe.
• This product is wet friction and water in there can be discolored by. Please note when used in wet weather or light color clothing to wear.
• Easier to fall out and print is not permanent, or more, to be rubbed, also repeat the washing and cleaning by slightly thinner. Also please avoid ironing to the printed piece. Also, enjoy texture of its own products, but may have individual prints tints.
▼ Please check also comes with tag described before handling.