May differ from actual colors pictured above wearing a little. Please see the product pictures below color. Also, if you have any concern, please feel free to contact.
Height 158 cm Cosmo used: Check the code
Mini bag with a shoulder strap and strap are square type
A nice realistic picture transfer print shoulder bag. It is without a gusset is a square type simple and clean so can have as an accessory item. And use the canvas material to the body, designed in the color scheme and hand enamel material.
Open and close the mouth piece fastener. Short of look through possible diagonal seat shoulder strap and wrist strap. Over the shoulder gusset and diagonal seat OK the worked as a clutch bag shoulder strap bombs onto the. To go B5 notebook fits in the landscape, a little useful.
---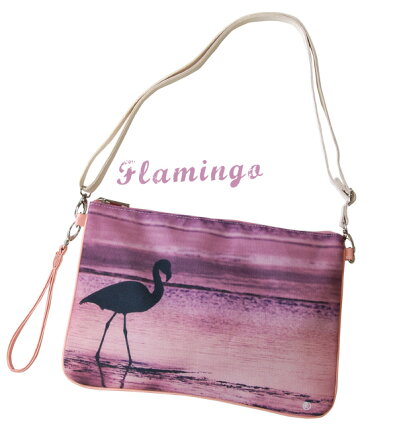 Size
Width 32 cm height 22 cm
Handle total length 34 cm non-adjustable width approx. 1.3 cm
Approximately 1.5 cm wide shoulder strap length approx. 66-125 cm (adjustment is possible)
* Above sizes are our flat place exact size it is. For more information of the size Click here From.
Weight
Approx. 210 g
Features
Body fasteners open inside pocket 3
Material
Cotton-synthetic leather
Production country
Made in China
Lining
Polyester (not in the ライトグレージュ plain, slightly shiny stretch material)
Design
Flamingo ( babypink )
Island (Like day-glo yellow)
Cosmo (Black)
* ( ) in is the color of the enamel part
* On the back are common and off-white

Points to note
• Our products are production process on the just "yarn for weaving fabric seam" and somewhat "fray", other fiber "blend", may also cause some "errors" in shape and size. We are very sorry but kindly served as thank you.
Do not wash down:.
• Avoid heat or high temperature, benzine, thinner or other volatile, please do not wipe.
• This product is wet friction and water in there can be discolored by. Please note when used in wet weather or light color clothing to wear.
▼ Please check also comes with tag described before handling.