Subject is pictured above wearing outdoor shooting for the somewhat different color. Please see the product pictures below color. Also, if you have a concern please don't hesitate please consult.
Model's height is 165 cm
The shirt (blue) Click here  The bottoms (yellow) Click here  Tank top (a Rockstar) Click here  The inner (black) Click here  Worn color is Indigo
* If you have stock or may soon plans to sell products to link out. Please note that.
Charm shoulder bag's unique silhouette was designed in the image of "freshly-picked bananas'.
To the tradition of the good old American-style motif a contemporary Highstyle proposed fashion RODEO TAILORS ( ロデオテイラーズ ) Than the emergence of バナナショルダー feel good!

Both sides enjoy the deep shades of subtle original Mono g denim fabric of cool design a unique place both boast ◎. And sporty shaped like a punching bag in shoulder of patchwork design and color fastener charm accents the stylish power-ups gone! Tikolo, pockets filled with about that is convenient and happy. Also, is also able to use both hands, Mama's bag as well GOOD. Purse makeup pouch, mobile, 500 ml bottles, diapers and require a little clothes, the whole thing has come. And he, of course, so you can use men's design, shared with dad you might!
---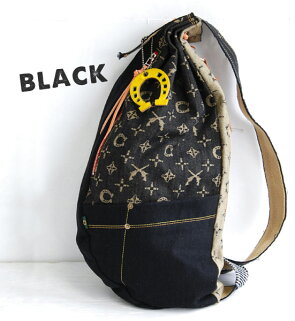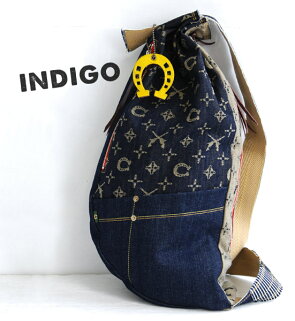 Size
Width approx. 54 cm height approx. 27 cm gusset approximately 7.5 cm
Hand cm ( adjustable and approximately 3.5 cm increments in 4 hole ) hand width 5 cm
* The size is our open space is the exact size. May differ from the representation of the tags. For more information of the size Click here From.
Weight
About 535 g
Features
Body fasteners that open outside pocket six Pocket 2
Material
Denim
Production country
Made in Japan
Lining
Cactus pattern in beige
Color
Black
Indigo
Related products
ロデオテイラーズ Bag series
Coordinated Monogram Shoulder bag & Tote bag & バケツトート bag & Wallet
Points to note
▼ may our products stems just "yarn for weaving fabric seams" and some "frayed", such as in the mechanical production process quality problems with the No. You may also, in the weave of the fabric blend other fibers.
▼ the discolored due to the nature of Indigo-dyed, so when washing alone, please wash.
• There is sweat, humidity, color dye due to the friction to light and note combinations and white goods.
▼ keep in place when kept light, such as sunlight, fluorescent light, airy.