Studs x color faux leather rucksack with cool
Gold round stud was accent, color scheme フェイクレザーリュック suck. Stick out like out-a three dimensional rectangular form and gusset pockets is characteristic. Body opens and closes with zipper and inside pocket includes zipper pocket in three attached. Body fasteners and outside pocket Farina color puller is one of the accent. Is in A4 magazine also completely possible, so also ideal for commuters, including daily bag. Wide gusset with confidence straight even for lunch, etc., are put.
---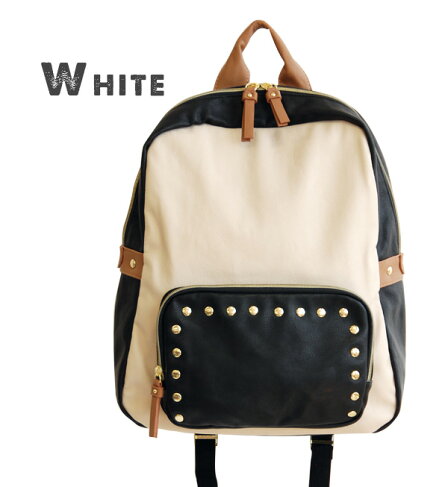 Size
Width 32 cm height 38 cm gusset 8.5 - 13 cm ( on-base )
Shoulder belt: length 46-96 cm, width approx. 4 cm (adjustable)
* Above sizes are our flat place exact size it is. For more information of the size Click here From.
Weight
Approx. 580 g
Features
Body zipper opening and closing outside pockets one inside pocket 3
Material
Synthetic leather
Production country
Made in China
Lining
Solid color without shiny fabric
Color
White
( Ivory x black x dark brown old beige ) [Navy Blue]
Beige
( Dark beige x Navy * red-leaning Orange ) [Green]
Wine
( red wine relaxed × dusky pink beige x ivory ) [beige]
Black
( black × blue-green × beige ) [dark blue]
* ( ) in a body x gusset Pocket x hand color the [] lining color is in the
* In common color studs, gold
Related products
Of the same design Tote bag & Porch
Points to note
• Products such as PVC or PU fake leather is the strong smell of the dye on the nature of the material. After is in stock in our sealed from the manufacturer in inspection on again bagged assortment we are so scent is somewhat strongly felt, unlike over-the-counter products is also available. Feel a little smell which cares for a few days or in the shade of try it please.
Do not wash down:.
• Avoid heat or high temperature, benzine, thinner or other volatile, please do not wipe.
• This product is wet friction and water in there can be discolored by. Please note when used in wet weather or light color clothing to wear.
▼ Please check also comes with tag described before handling.