Miho was likely スパイシーリュック autumn and winter plus animal pattern
Pocket parts designed in the ROE style faux fur Leopard tote. Body with cotton Suede finish ケバだて unlined surface and suede-like texture. Easy-entering the supply even A4 size size of the backpacking girls cute, casual form. Outside pockets are popping out to the point.
Body solid large double ZIP specification in, open the Pocket is in.
---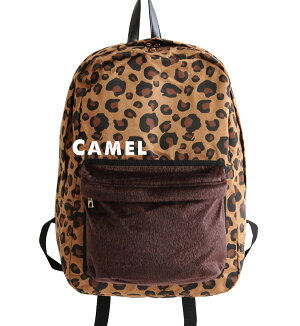 Size
Width 30 cm height 42 cm gusset approximately 10-14 cm ( on-base )
Shoulder: 47-90 cm, width approx. 5 cm (adjustable)
* Above sizes are our flat place exact size it is. Click here for details.
Weight
Approx. 400 g
Features
Body fasteners that open outside pockets one one inside pocket
Material
Cotton faux fur
Production country
Made in China
Lining
Slightly shiny fabric in plain brown
Color
Beige ( Dark order of beige x Brown x black Leopard print and black and light beige )
Camel ( Camel Brown x tea / black Leopard print / dark brown / brown thin )
* ( ) in is body / Pocket / back color
* Color of the shoulder belts is common, and is black

Points to note
• There may be characteristics on the products, take position of the fabric creates a pattern and nuance slight individual difference, different images and facial expressions.
• Our products are mechanical production process on the just "yarn for weaving fabric seam" and somewhat "fray", other fiber "blend", may also cause some "errors" in the shape or size. We are very sorry but kindly served as thank you.
Do not wash down:.
• Avoid heat or high temperature, benzine, thinner or other volatile, please do not wipe.
• This product is wet friction and water in there can be discolored by. Please note when used in wet weather or light color clothing to wear.
• Products such as PVC or PU fake leather is the strong smell of the dye on the nature of the material. After is in stock in our sealed from the manufacturer in inspection on again bagged assortment we are so scent is somewhat strongly felt, unlike over-the-counter products is also available. Feel a little smell which cares for a few days or in the shade of try it please.
▼ Please check also comes with tag described before handling.