May differ from actual colors pictured above wearing a little. Please see the product pictures below color. Also, if you have any concern, please feel free to contact.
Height 158 cm ivory used: Check the code
Antique feeling of plenty, a lady floral print bag
フェイクレザーショルダー bag antique flower bouquets are drawn. Create an atmosphere without the too sweet floral base is being designed to crack the vintage somewhere.
Open the flap with magnetic button belt part and the body zipper opening. Position opened the flap and back out of pocket, with two inside pockets body inside the. A5 file storage size of has Machiko so easier to put also the porch of the less luggage you're this one enough out call is possible.
Shoulder strap can be adjusted of course also obliquely effortlessly as possible on the length of the over the shoulder gusset. I'm part of your clothes will with color in the code.
---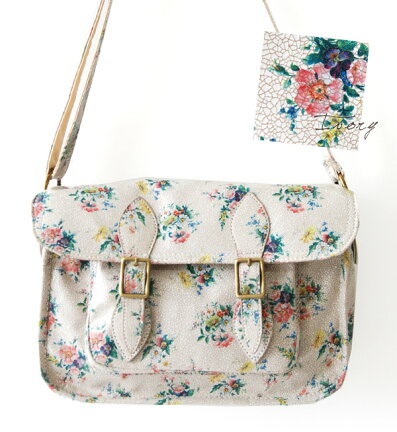 Size
Width 26 cm height approx. 18 cm gusset approx. 9.5 cm
Hand: approximately 2.5 cm wide 64-120 cm (adjustment is possible)
* Above sizes are our flat place exact size it is. For more information of the size Click here From.
Weight
Approximately 295 g
Features
Body magnetic button opening and closing out two pockets 2 inside pockets

Material
Synthetic leather
Production country
Made in China
Lining
Do not stretch fabric solid color a little shiny
"Color" ivory: dark order of beige, other: Brown
Color
Ivory ( Ivory x green, pink, yellow, blue, etc. )
Mustard ( mustard shade of gray × gray, matte-yellow, green, etc. )
Navy ( near black Navy × faded red, beige, green, etc. )
* ( ) within the body of x is a color print
Related products
In the matching Tote bag (PVC figure) Also available

Points to note
• Subject characteristics on the products, the dough taking positions just some individual differences nuances and attitude of the size, design, different images and facial expressions.
Do not wash down:.
• Avoid heat or high temperature, benzine, thinner or other volatile, please do not wipe.
• This product is wet friction and water in there can be discolored by. Please note when used in wet weather or light color clothing to wear.
• Products such as PVC or PU fake leather is the strong smell of the dye on the nature of the material. After is in stock in our sealed from the manufacturer in inspection on again bagged assortment we are so scent is somewhat strongly felt, unlike over-the-counter products is also available. Feel a little smell which cares for a few days or in the shade of try it please.
▼ Please check also comes with tag described before handling.