May differ from actual colors pictured above wearing a little. Please see the product pictures below color. Also, if you have any concern, please feel free to contact.
Height 161 cm beige use: check the code
Height 153 cm grey use: check the code
Most popular per original color of our limited edition is now available!
Per popular add a new color! And one-also ♪ new colors of gray is completely different note we only buy limited edition color! And spicy Leopard Gala gone and design different images, not claiming any coordination and high-class. In the friendly atmosphere somewhere, but popular animal prints easily can be incorporated into code.
Competitive appearance, usability is attractive!
Very rare balloon bag outside pocket, take out quickly, such as mobile phones and regular ones to keep handy. Body magnetic closure, while a partition simple plenty of baggage goes with. And with three inside pockets, which one is in large zippered pocket also valuables, such as precious be properly placed. Round bottom gusset will crumble some types fit in because the A4 size fits comfortably in landscape orientation, it looks more capacity! Round bottom it is too difficult to shape has received plenty of gathered in Mati, so nice.
---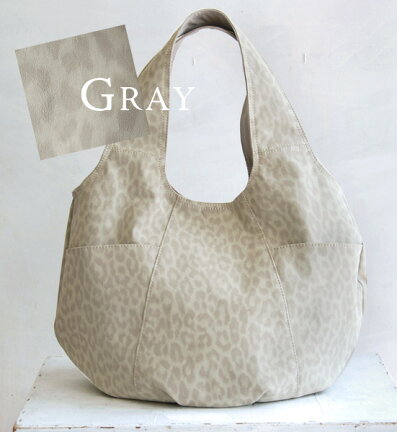 Size
Width 42 cm height approx. 29 cm gusset diameter 19 cm (round bottom)
Hold about 42 cm non-adjustable handle width 3 cm
* Above sizes are our flat place exact size it is. Click here for details.
Weight
Approx. 360 g
Features
Body magnet open inside pocket three outside pockets two
Material
Synthetic leather
Production country
Made in China
Lining
Do not stretch material solid color a little shiny
Brown: Brown
Beige: light brown
Gray: slightly tinged with blue light grey

Color
Brown ( yellowish light brown * faint reddish-brown )
Beige ( somewhat dull cream color x light fading )
Gray( ivory shade of gray / light gray )
* ( ) in a body color x is a color pattern parts
Related products
The same form solid color Ver. Also available
* Depends on texture, etc.
Points to note
• Wet friction and water in inevitable etc. to by faux leather color transfer. Also if you lose even if skin color, color transfer to clothes from the back. Please note when wearing a garment used in wet weather or light colors, or dark denim and other clothing.
• Please avoid leather heat, thus near the fire and light, by the way of use.
Do not wash down:.
• Avoid heat or high temperature, benzine, thinner or other volatile, please do not wipe.
• Products such as PVC or PU fake leather is the strong smell of the dye on the nature of the material. After is in stock in our sealed from the manufacturer in inspection on again bagged assortment we are so scent is somewhat strongly felt, unlike over-the-counter products is also available. Feel a little smell which cares for a few days or in the shade of try it please.
▼ Please check also comes with tag described before handling.