6,680
※The point of 13.10.15
The wearing photograph mentioned above has a case unlike a real color to some extent. Reference give the color a lower product photograph. In addition, please refer willingly if there is worry.
Approximately 161cm tall light beige use: I check coordinates
Of a feeling of quiet luster is adult め Boston bag slightly
It is the appearance of 2WAY Boston bag giving a stylish impression in on the small side. The wonderful item which is usable as a shoulder bag because a removable belt sticks. It is oblong, and the form is very compact. The size of the bag is not too big, too and is glad because it is the reasonable size that is not too small. In addition, ◎. which three + inside gets a pocket three outward, and improves convenience Please usually use it for an errand and slight outing by all means. Because I am usable as a shoulder when I shop for commuting and attending school as Boston and want to use the both hands, it is great and is convenient. Because it is simple form, you can use it from the casual clothes to the dressy coordinates widely.
---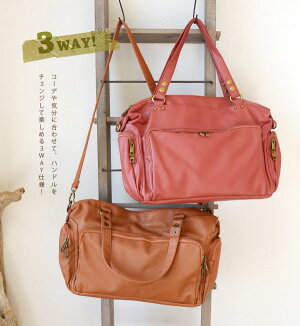 The wearing photograph mentioned above has a case unlike a real color to some extent. Reference give the color a lower product photograph.
I can check the details of coordinates when I click a right thumbnail.

Size

Approximately 37cm in width approximately 23cm in height gusset approximately 13cm




A shoulder part: Approximately 68-121cm (I can regulate it) handle approximately 2.5cm in width




A handle part: Approximately 51cm (adjustment impossibility) handle approximately 2.5cm in width


※The size our store flat; put it, and is full scale size. It may be different from the notation of the tag. The details of the size from this place.

Weight

Approximately 615 g

Characteristic

Three four main body fastener opening and shutting outside pocket inside pockets

Material

Fake leather




) which the processing such as the wrinkle makes on the (※ surface

Lining

Polyester cotton




A color: Light るめの brown (other than beige) with the luster




With the luster slightly beige (beige) with dullness

Color

Dark brown (light るめのこげ tea)




Camel (the camel that the reddish tinge resists slightly)




Black




Light beige (slightly darkish thin beige)




Pink beige (darkish light pink)

Matters that require attention

▼There is number-colored blurring by production lot. In addition, there is the case that the crazing such as the left photograph is seen in because I take grain finish in a design.




▼I avoid the washing in water, and when you are stained, I wipe Inui, and, please do it.




▼When I paint with friction and water, and the product of this place is similar, it may discolor. Please warn the clothes of use by the rainy weather and a light color on the occasion of wearing.




▼Before the handling, please confirm mention of the tag attached to the product.