Our original brand's retro feel calming color scheme border pattern headbands Zootie ( ズーティー ) From introducing ♪ big Ribbon motif is made squeaking a border pattern fabric design. Possible wire encased in this Ribbon, and adjust to the desired shape and orientation:. You can use the reliable line of skinny headband is so comfortable to wear even soft, tightening sensation comes to mind.
---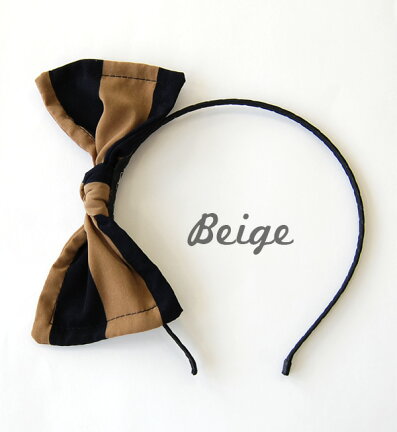 Size
Motif part: Portrait 15 cm 8 cm
Headband: about 38 cm long approx. 0.5 cm wide
Material
Polyester metal
Production country
Made in Korea
Color
Beige ( dark beige dusky x dark Dark Navy )
Brown ( strong reddish brown x dark Dark Navy )
Blue ( somewhat dusky blue x dark camel )
* ( ) in is the color scheme of the border pattern
* Headband body is the common, standard black
Points to note
▼ characteristics on the products, the dough taking positions just slight individual difference nuances and attitude of the size, pattern, different images and facial expressions.
• Is the accessory made carefully handmade warmth. Nature, in the production process of some color, scratches and may occur as dirt. Every size and shape and color somewhat differently, because the texture of the material, there might be non-uniformity of finish. Enjoy unique hand-crafted taste and texture.
• This product is very delicate. Could you peels off or missing due to friction and tension, so please treat carefully. When you use please note in and around the caught.