Delicate and realistic design フラワーコサージュカチューシャ
Great, is our original brand フラワーコサージュ a real headband Zootie ( ズーティー ) From introducing ♪ corsage decorated with lots of petals that real making designed up to part of the sepals on the other side's. ... The body is somewhat delicate, were shining-motif is also excellent learning hair. You can use the safe but also comfortable to wear soft and tightening sensation comes to mind.
---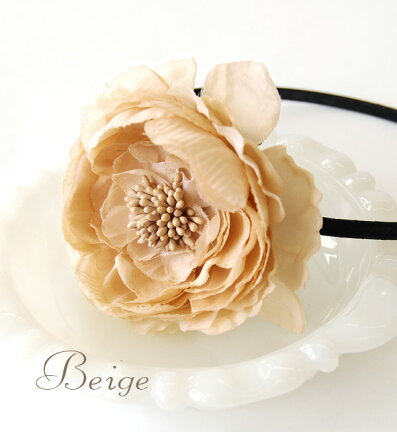 Size
Motif parts: 9 cm
Headband: length 40 cm width 0.5 cm
Material
Polyester metal
Production country
Made in Korea
Color
Beige (light beige Energizer ap1201 rechargeable battery)
Blue ( dusky blue and dull-colored aqua blue and pale yellow-green )
Black (black standard)
* Beige and black are designed in one color, but
Uses multiple color blue only
* Headband body is the common, standard black
Points to note
• Is the accessory made carefully handmade warmth. Nature, in the production process of some color, scratches and may occur as dirt. Every size and shape and color somewhat differently, because the texture of the material, there might be non-uniformity of finish. Enjoy unique hand-crafted taste and texture.
• This product is very delicate. Could you peels off or missing due to friction and tension, so please treat carefully. When you use please note in and around the caught.