The message Kumon.
'LIFE'
This year, and many may think of this word.

'SLOW'
With a lot of wasted electricity, getting that I think was in different places and situations. Also became a bit Dim station home, and surprisingly good. I think should have been followed. I have been aware ever be taken for granted. Better than conscious apart to together with everyone.

'LIFE' and 'SLOW'
Slow, long, to continue. So I think your body and mind will be HAPPY.
In the tips we can broach your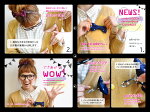 Presence even as heaakuse, plus the brooch, fashion. The tea is everywhere like safety pins through the portrait from the back of the garment, often Valletta during that time. Valletta vogue now, so simple, so come try!