In the collection of your postcard
Mini Gallery to your room?
Pocket 5 × 6 Pocket 30 pieces! Many will be put.
Algeria transparent Wall pocket, sturdy stitching, top with grommet holes.
How many wall Pocket
Discover how good you write the review.
---------------------------------------------
Making a solid with a thick vinyl material wall Pocket
It is made in Japan. White sewing thread, sewing
Than conventional thermal compression is strong.
The Pocket 5 × 6 with 30 Pocket pieces
Is the postcard can be stored upright Wall pocket.
6/2012 At the end of may mail plan size change.
I'm sorry, sorry,
Our product has longer to send you in the mail.
| | |
| --- | --- |
| Material | Body: PVC 100% thicker than the conventional vinyl material is. |
| Color | Clear transparent |
| Size | Approximately 59.5 cm (the height 101 cm (width) |
| Specifications | The Pocket 5 × 6 with 30 Pocket pieces. Pocket one size 11.5 cm by 11.5 cm postcard to, what exactly is a good Wall pocket. The body 7 Columbiformes (aluminum) holes, sewing in a white sewing machine thread. Pocket with gusset. |
Transparent Wall Pocket & applications: put the 状差し, postcards
CD storage, wall storage, overnighter, letter holder,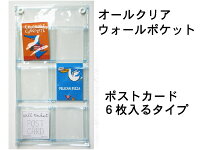 Here is the type of postcard 6 *.