■ This is the cabin carry-on size!
Lightweight suitcase CARGO LIGHT ( searchlights )
For the mirror series PD210 travel case
Materials developed a three-tier structure polycarbonate
Resin suitcase.
Manufacturer: TRIO (trio)
Brand: CARGO LIGHT ( searchlights )
Size: H47.5 x W33.0 x D21.0cm(body size )
H55.0 × W36.5 × D21.0cm(casters, including size )
Weight: 3.3 kg
Capacity: about Nikki 21 l
Material: Polycarbonate and ABS mixed resins
Accessories: pouch, アルファベットシール
Note: 2-year limited warranty
↑ comes with pouch, sticker and key.
↓ This is embossed type (this is the same size series)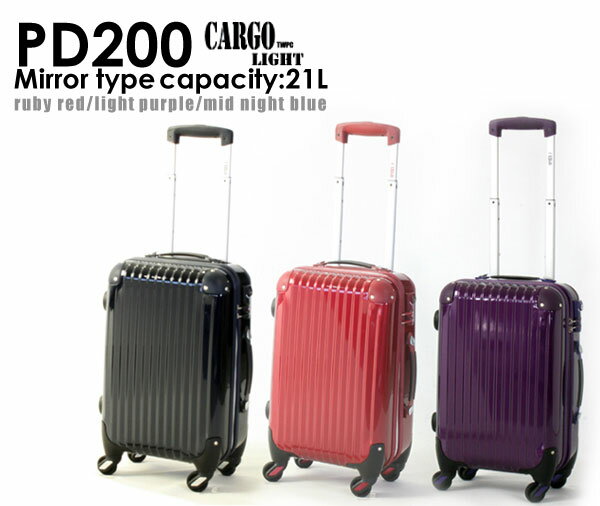 About the [warranty]
Defects under normal use during the warranty period, we will if is due to manufacturing or parts have problems or defects and, if applicable, charge repaired or replaced.
[* Warranty information]
Misuse or airline or damage caused by such a Bungle in transit transport and other and scratch and Dent, stain, etc.. Or will the warranty for damage caused due to high temperature and solvent, rain.
Mirror finish products are subject with a characteristic on the fine scratches and scrapes, but will void the warranty, please note that.